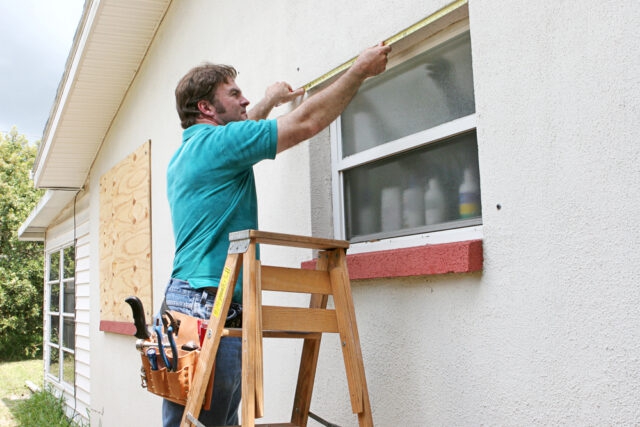 Hurricanes are a fact of life in many parts of the world. When hurricane season rolls around each year, homeowners and business owners are faced with tough decisions about what steps to take to protect their buildings from these intense storms.
In this article, learn why you need hurricane shutters to protect the greater investment you have made into your home or a business building you own.
What Are Hurricane Shutters, Exactly?
First, it may help to briefly clarify exactly what hurricane shutters are as well as what they are not.
Hurricane shutters are designed to prevent window glass from shattering and turning into projectiles. But in order to do this, they have to be stronger than the typical window treatments installed for cosmetic purposes in many homes and businesses.
For this reason, as the Insurance Institute for Business and Home Safety explains, hurricane shutters come complete with impact, cycle, and pressure test ratings and weather-resistant coatings to help them withstand high winds, driving rains, and flying debris.
Reasons Why You Need Hurricane Shutters
The decision to add hurricane shutters can do more than simply keep the glass in your windows from shattering.
But they do represent an investment and it is important to think through the reasons why you need hurricane shutters so you feel good about making that investment.
1. Hurricane shutters represent a one-time investment against all future storms.
There is nothing quite like waking up in the morning, checking the local weather report, and learning that a hurricane is taking shape and taking aim right at you.
This can completely disrupt your day, your week, and in some devastating cases – your whole life. Even minor storms often result in long lines as homeowners line up to storm-proof their homes once again. This can happen several times each year in some areas.
As Motley Fool explains, hurricane shutters only need to be installed once.
After you have finished this task, you don't ever need to do it again and can check that item off your to-do list for future storms.
2. Hurricane shelters can also enhance curb appeal and resale value.
According to Investing Answers, adding hurricane shutters to your property can potentially shave as much as 10 percent off your annual homeowner's insurance premiums.
The same may hold true for your business premises insurance. But if getting this insurance discount is part of the reason you are installing hurricane shutters, be sure to check with your homeowners or business insurance provider first to verify that you are eligible for a discount.
3. Hurricane shutters may save your life.
The Washington Post very accurately points out that hurricane shutters are designed to do more than simply protect your premises and property.
They can and do save lives every single year. One of the biggest risks during an intense hurricane-grade storm comes from flying debris.
Well-made and well-fitted storm shutters protect occupants from outside debris that might otherwise shatter windows and blow through the structure.
4. Hurricane shutters can even protect your garage and vehicles.
Many people are not aware that hurricane shutters can do a lot more than just protect windows. They can also be installed to protect garages and the belongings and vehicles stored inside.
As the Texas Department of Insurance points out, garages can be particularly prone to damage during the type of high winds that hurricanes can produce.
In many cases, hurricane shutters can prevent structural damage that causes sufficient instability to warrant a garage replacement!
Whenever you are considering purchasing a property in a hurricane-prone location, you should always learn as much as you can about the history of that property and storm activity in that area.
Hurricane shutters can make the difference between riding out the storm season safely and having to make costly unexpected repairs.
Also read about: Who Will Be Sued in A Truck Accident Claim