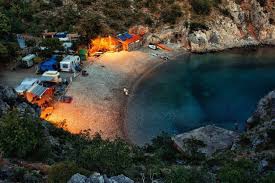 If you are making the adventurous journey across Canada in an RV, then there are a few stops that are a must-see! Having an RV gives you a lot of flexibility when it comes to how long you spend in each area. Not only that, but you do not have to rush around checking in to hotels, Airbnb, or flights.
Jasper National Park
Jasper National Park is a breathtaking place to visit. It is the largest part of the Canadian Rocky Mountains with everything you could ever want to do and explore. There are endless opportunities for any season: ice skating, star gazing, kayaking, skiing, and lots and lots of hiking! There are places you can park your RV and stay the night so you can enjoy the park over a couple of days. It is also close to other attractions such as Miette Hot Springs and the Glacier Skywalk. There is also a wide variety of restaurants you can enjoy after a long day of exercise and being outdoors! You can enjoy any type of indulgence, including pizza, sushi, and beer!
Campers Cove, Ontario
Campers Cove is a camping resort that offers a clean sandy beach you cannot get anywhere else. If you enjoy wine, bird-watching, and the calmness of the famous Lake Erie, this is the place to unwind during your RV trip. Campers Cove is only minutes from Colasanti's Tropical Gardens, Jack Miner's Bird Sanctuary, Point Pelee National Park, and Wineries!
Starting as a family campground where people would enjoy the simplicity of camping, it is now a well-known site to stay. Lake Erie is beautifully seen from the grounds. This family-friendly campground includes sports courts, playgrounds, a large movie screen, a laundromat, shower facilities, and of course, rental log cabins.
If you are looking for a pleasant quaint spot to camp out in your RV, Camper Cove is a fantastic option.
In addition, there is a mix of cute towns surrounding Ontario, including Halton. It is full of history, a great community, and is not too far away from the city! If you are interested in the area, check out Halton real estate or forever homes to build a new house.
Vancouver
Vancouver is the perfect place to mix in both outdoor and city life! While being in an RV, you may be more secluded from other people than used to be. It is full of outdoors and fun but it is nice to see different environments! Vancouver is the third largest metropolitan city in Canada, and it is surrounded by mountains. While visiting you can enjoy Stanley Park, Grouse Mountain, and Granville Island! The city has endless opportunities and you can fit in a lot of adventures.
Conclusion
Figuring out where to stay and what to see during an RV trip can be a lot to handle. It can be hard to get excited about it when there are endless things to consider! These three places may make it much easier for your decisions!
Also read about:
Delete the Gmail account permanently
TIPS FOR FINDING A TRUSTWORTHY PLUMBER
Close Connects Gives Free Instagram Tips for Growth